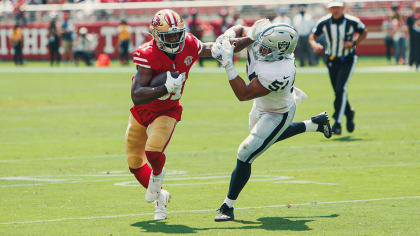 Head coach Mike McDaniel is bringing a familiar face to the Miami Dolphins.
The Dolphins signed former San Francisco 49ers running back Raheem Mostert, his agent, Brett Tessler, announced Wednesday.
It's a one-year contract worth $3.125 million, Tessler told ESPN's Adam Schefter.
Mostert spent the past five seasons in San Francisco. He averaged at least 5 yards per rushing attempt in 2019 and 2020, though he logged only 137 and 104 carries in those years, respectively.
The 29-year-old was also a crucial weapon for the 49ers during their Super Bowl LIV run, racking up 336 yards and five touchdowns through three postseason games.
Injuries have kept Mostert mostly on the sideline over the last two campaigns. An ankle ailment limited him to only eight appearances in 2020, and a knee injury forced him to miss 16 games last year.
Mostert is the second running back to sign with the Dolphins this offseason after Chase Edmonds. Miami struggled to move the ball on the ground last season, averaging only 92.2 rushing yards per game and 3.5 yards per carry.
McDaniel was named Dolphins head coach earlier this offseason after spending the previous five years on the 49ers' coaching staff.