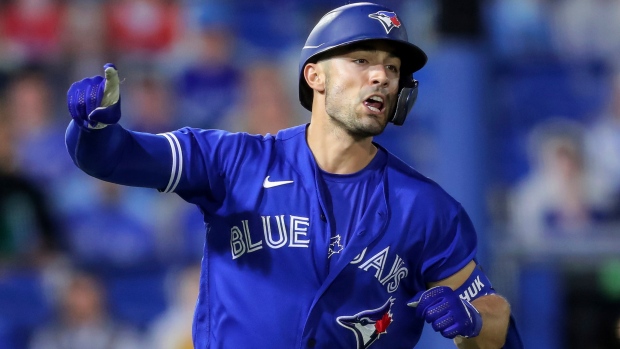 The Toronto Blue Jays traded outfielder Randal Grichuk and cash to the Colorado Rockies for outfielder Raimel Tapia and infield prospect Adrian Pinto, the Blue Jays announced Thursday.
Grichuk will earn over $10.3 million in 2022 and 2023 before testing free agency. The 30-year-old spent the last four years with the Blue Jays, accruing a .243/.289/.461 slash line with 90 round-trippers and 257 RBIs over 479 games. He went deep a career-high 31 times in 2019 and has five 20-plus homer campaigns over eight years in the majors.
Toronto will cover approximately half of what Grichuk is owed over the next two seasons, a source told TSN's Scott Mitchell.
Grichuk spoke after the deal, admitting his emotions are mixed.
"Someone leaked (the news) before (Blue Jays GM) Ross (Atkins) talked to me … Got a couple of texts that read 'Rockies?' Question mark, question mark … bittersweet for sure," Grichuk told Sportsnet's Hazel Mae.
Meanwhile, Tapia owns a career .280 average with a .721 OPS across six years with the Rockies. He's a left-handed bat who swiped a career-high 20 bases last season. The 28-year-old will make $3.95 million in 2022 and is still arbitration-eligible through 2023.
Tapia addressed the trade and spoke of his excitement to play in front of Blue Jays fans.
"I hear a lot of good things about their fan base, and I'm just excited to get to know them and them to get to know me and the style of game I play," Tapia said, according to Michael Spencer of CBS Denver.
Pinto, 19, slashed .360/.487/.543 with three homers and 41 stolen bases in 54 games in the 2021 Dominican Summer League.