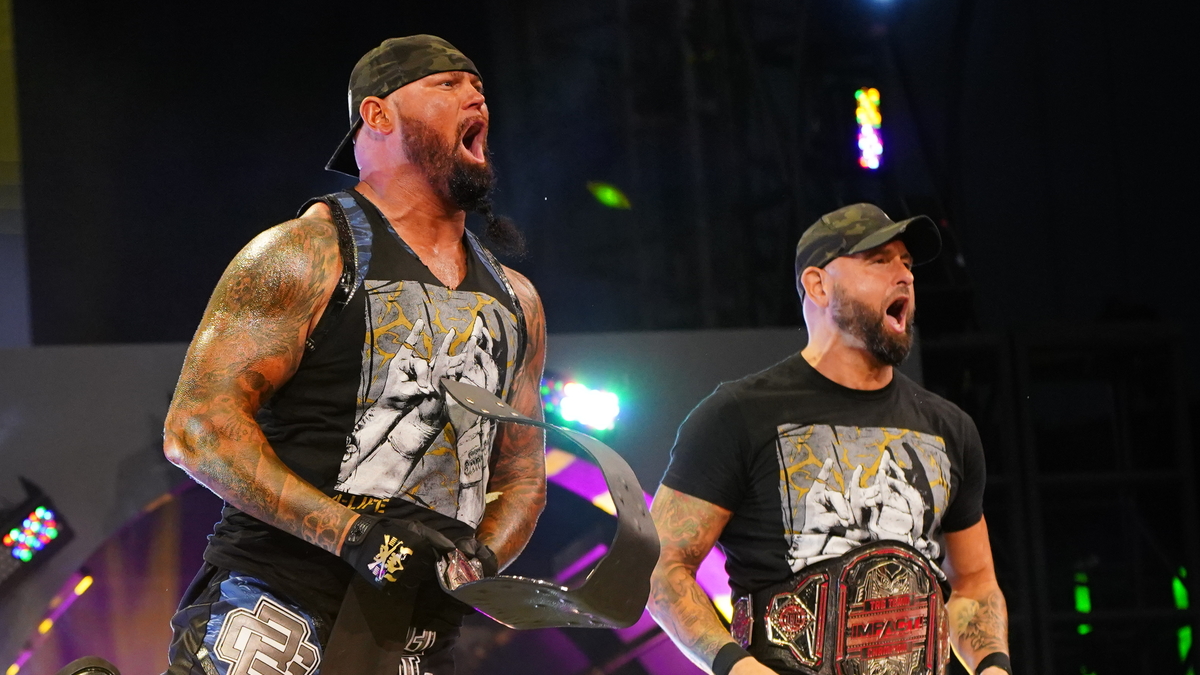 The Good Brothers have hinted heavily at returning to All Elite Wrestling in the near future, doing so in a new interview with WhatCulture's Adam Wilbourn.
Karl Anderson and Doc Gallows are currently contracted to Impact Wrestling, where they have worked since debuting at Slammiversary 2020 that July. When asked about what's next for the duo after stints in WWE, AEW, and Impact, Gallows made reference to "contract season", speaking on the myriad options available in the current wrestling landscape:
"As Eric Bischoff says, 'controversy creates cash' and it's contract season, boys and girls. It is contract season! We love where we're at, we love what Impact Wrestling is doing, we love what New Japan Pro Wrestling is doing. We love the landscape right now. It's good for everybody: you guys as fans, us as performers. It's a great time to be in this business, there's nowhere better on this earth to be right now if you wanna participate in this than right here in Dallas, Texas."
After being asked about potential tag team dream matches, Gallows promoted his and Anderson's match with The Briscoe Brothers at tonight's Impact Multiverse Of Matches show, then brought up AEW's Young Bucks:
"Our best friends in the whole world are considered one of the best tag teams in the whole world and so are we. Someday, somebody's gonna pay a shitload of money to see The Young Bucks vs. The Good Brothers."
Anderson then referenced AEW, NJPW, and a new contract offer from Impact:
"Shockingly, our best friends run a really big company. So our best friends run a big company… on top of our friend, Tony Khan, runs a big company. On top of… our best friend [pointing to Rocky Romero] is talent relations with New Japan. Also, Impact Wrestling offered us a new contract. Goddamnit, things are about to get crazy!"
"You can't drop GD bombs and talk about contracts, for fucks sake," said Gallows in response.
The Good Brothers were the chief beneficiaries of Impact Wrestling's working relationship with AEW in 2021, effectively becoming All Elite regulars after debuting on January's special New Year's Smash episode of Dynamite. Affiliated with former Bullet Club stablemates Kenny Omega and The Young Bucks throughout, their appearances stopped shortly after Adam Cole signed with AEW and joined The Elite in September.
Watch out for WhatCulture's full interview with The Good Brothers dropping on YouTube. For now, take Gallows and Anderson's words as you will.