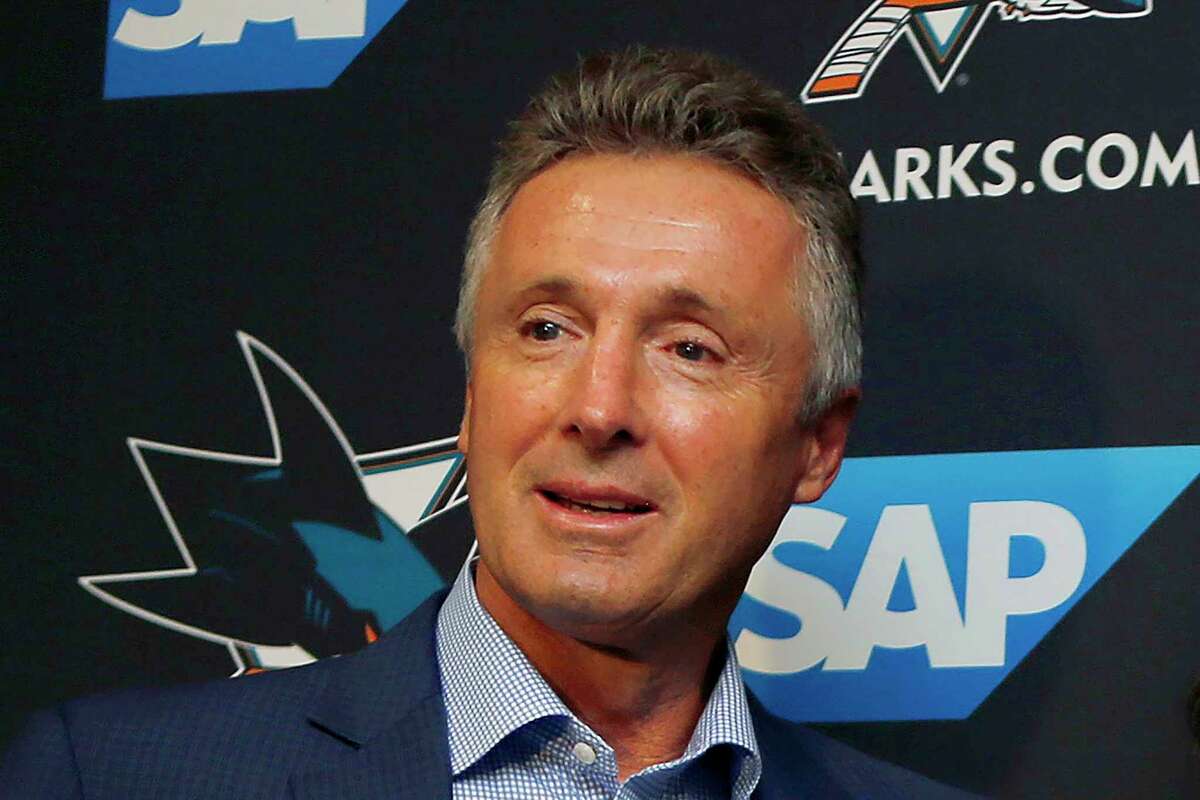 Doug Wilson is stepping down as general manager of the San Jose Sharks, he announced Thursday.
"These past 19 years … have been a privilege and one of the most fulfilling and enjoyable periods of my life," Wilson said. "I have been incredibly fortunate to work for and with some of the most talented and passionate people in the game of hockey."
The 64-year-old has been on medical leave since November. Assistant general manager Joe Will will continue to serve as interim GM until a new hire is in place.
"While I have made great progress over the last several months, I feel it is in the best interest of the organization and myself to step down from my current duties and focus on my health and full recovery," Wilson said. "I look forward to continuing my career in the NHL in the future."
Since Wilson took over as GM in 2003, the Sharks have earned 14 playoff berths, five division titles, and one Stanley Cup Final appearance. Only the Boston Bruins and Pittsburgh Penguins won more regular-season games than the Sharks during Wilson's run, and only the Bruins, Pens, and Tampa Bay Lightning won more postseason contests.
Wilson made several savvy moves during his tenure, including one of the most lopsided trades in NHL history. In November 2005, he acquired Joe Thornton from the Bruins in exchange for Marco Sturm, Brad Stuart, and Wayne Primeau. Thornton went on to win the Hart Trophy that season and holds the franchise record for most assists.
Some of Wilson's other notable moves include drafting future captain Joe Pavelski in the seventh round in 2003 (his first draft as GM) and trading Charlie Coyle, Devin Setoguchi, and a first-round pick to the Minnesota Wild in 2011 for future Norris Trophy winner Brent Burns and a second-rounder.
"If there's one name you could think that's built this franchise from the bottom up, it's Doug Wilson," Sharks head coach Bob Boughner told NBC's Sheng Peng.
Sharks owner Hasso Plattner stated he'll immediately lead "an extensive, external search" for a new GM alongside Will and team president Jonathan Becher. No timeline has been set.
The Sharks missed the playoffs just once in Wilson's first 15 seasons but currently sit seventh in the Pacific Division and are on track to miss out for a third straight year. Veteran defenseman Erik Karlsson said the team should feel "uneasy" in light of Wilson's decision.
"If they bring in someone new, we all know what that means," Karlsson said, according to The Mercury News' Curtis Pashelka. "We're in a position right now where we haven't done very well for an extended period of time. … Things are going to change, things are going to have to change."