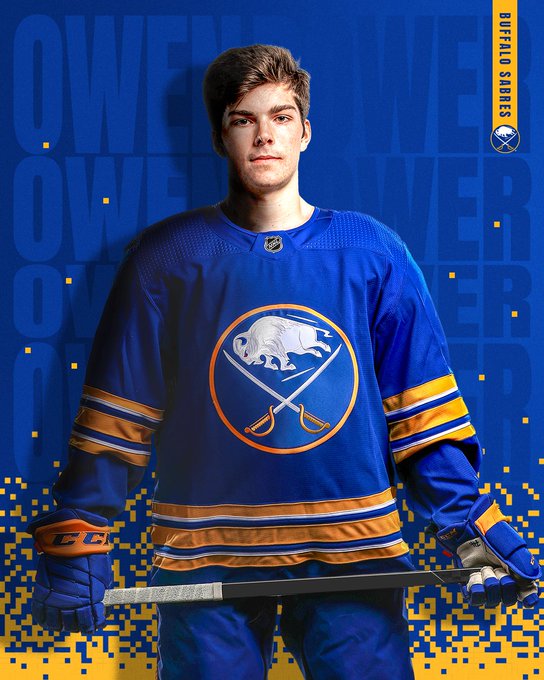 Owen Power, the Buffalo Sabres' first overall pick in 2021, is headed to the NHL.
The 19-year-old defenseman signed a three-year, entry-level contract with the Sabres on Friday.
Buffalo teased his arrival with a cheeky video of a phone regaining battery power moments before making the official announcement.
Power put up three goals and 29 assists in 33 games with Michigan this season and led the team with 50 blocked shots. The Wolverines fell to Denver in the Frozen Four semifinals on Thursday.
He's going to wear No. 25 with the Sabres.
Power was a force for Canada during the 2022 world juniors, scoring five points in two games before the tournament's cancelation. Power also became the first Canadian blue-liner ever to notch a hat trick at the tourney.
He went on to represent Canada at the 2022 Beijing Games, logging one assist in five contests while leading the team in ice time.
The 6-foot-6, 213-pound rearguard also dazzled at the IIHF World Championship in 2021, helping Canada win gold while averaging 20 minutes of ice time per contest.
Power became the first No. 1 pick since Erik Johnson in 2006 to hold off on turning pro, deciding instead to return to Michigan for his sophomore season. His 2020-21 freshman campaign ended unexpectedly when the Wolverines had to forfeit their first NCAA Tournament game due to COVID-19.
Buffalo was officially eliminated from playoff contention on Wednesday, but Power's presence will garner plenty of excitement as the Sabres play out their final 10 games of the season.
The Sabres are currently on the road and have three games left on this trip: Friday against the Florida Panthers, Sunday versus the Tampa Bay Lightning, and a Tuesday clash against the Toronto Maple Leafs.
Power, a native of Mississauga, caps off his college career with six goals and 42 assists in 59 games as a Wolverine. He was named a finalist for Big Ten Defensive Player of the Year this season.