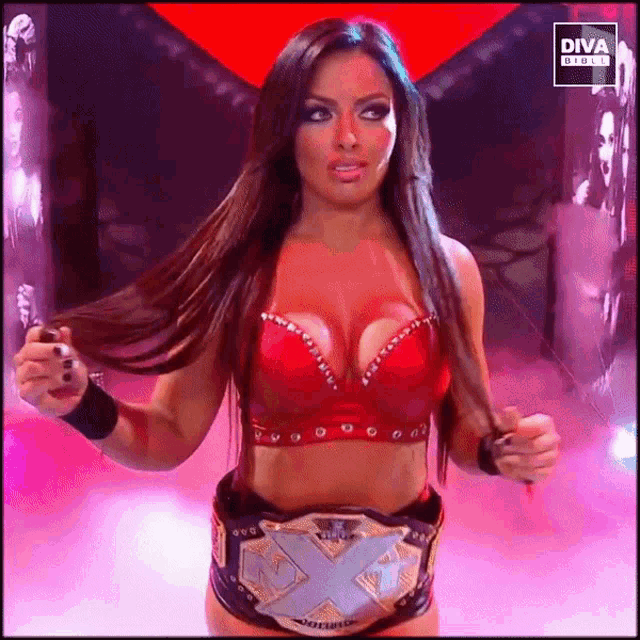 Former WWE wrestler Athena held nothing back on her frustrations with the company's various creative processes during a new interview with Chris Van Vliet, with the former Ember Moon shedding light on a number of things that led to her unhappiness in the promotion.
Amongst those frustrations were backstage meetings held to encourage female NXT talent to "dress sexy" – and be more like current Women's Champion Mandy Rose.
Speaking with Van Vliet, Athena spoke on one specific two-hour session in which talent were being asked to do the above, with the problems seemingly accelerating following Triple H's departure from NXT last summer (h/t WrestlingNews.co):
"… and we'd have to sit through stupid meetings about how we would have to dress sexy. And I remember looking at someone else like 'I cater to children. I am not about to wear a fishnet booty butt cheek shorts because we had a two hour meeting about how to dress like Mandy Rose.' That's not fair. Not everyone is going to be Mandy. Mandy is absolutely phenomenal and she's an amazing person. But not everyone is Mandy Rose. I started seeing this downslope as soon as Hunter was gone, and like for the first little bit, we didn't know why he was gone. We just knew he wasn't there, you know? I got so angry. And I remember sitting there and I was like I did nothing wrong. I didn't piss off Vince."
In an update, Fightful Select not that WWE labelled these NXT meetings "fashion consulting" and "fashion aid." As part of this, fashion expert Melanie Pace was brought in to lead the meetings in October 2021, with one NXT talent noting how big a change this was from the way things were done before. Previously, talents were told to wear their ring gear or merchandise; now, they were being told to "dress sexy."
Moon wasn't the only roster member to express their displeasure at this new approach, with a number straight-up refusing to attend. Perhaps unsurprisingly, WWE Head of Talent Relations John Laurinaitis took much of the blame. The meeting coincided with him returning to a position of power within WWE, though Fightful hasn't been able to confirm whether or not the former Johnny Ace had a role in putting the meetings together.
Beyond changing the way they dress on television, performers were also asked to adopt a similar approach backstage. A brochure featuring examples of suitable clothing was provided and while those involved were never explicitly instructed to "dress sexier", this was certainly implied.
The increased sexualisation of the women's division in NXT 2.0 has been blatantly apparent on television since the show's transition out of its Black and Gold era in September 2021.