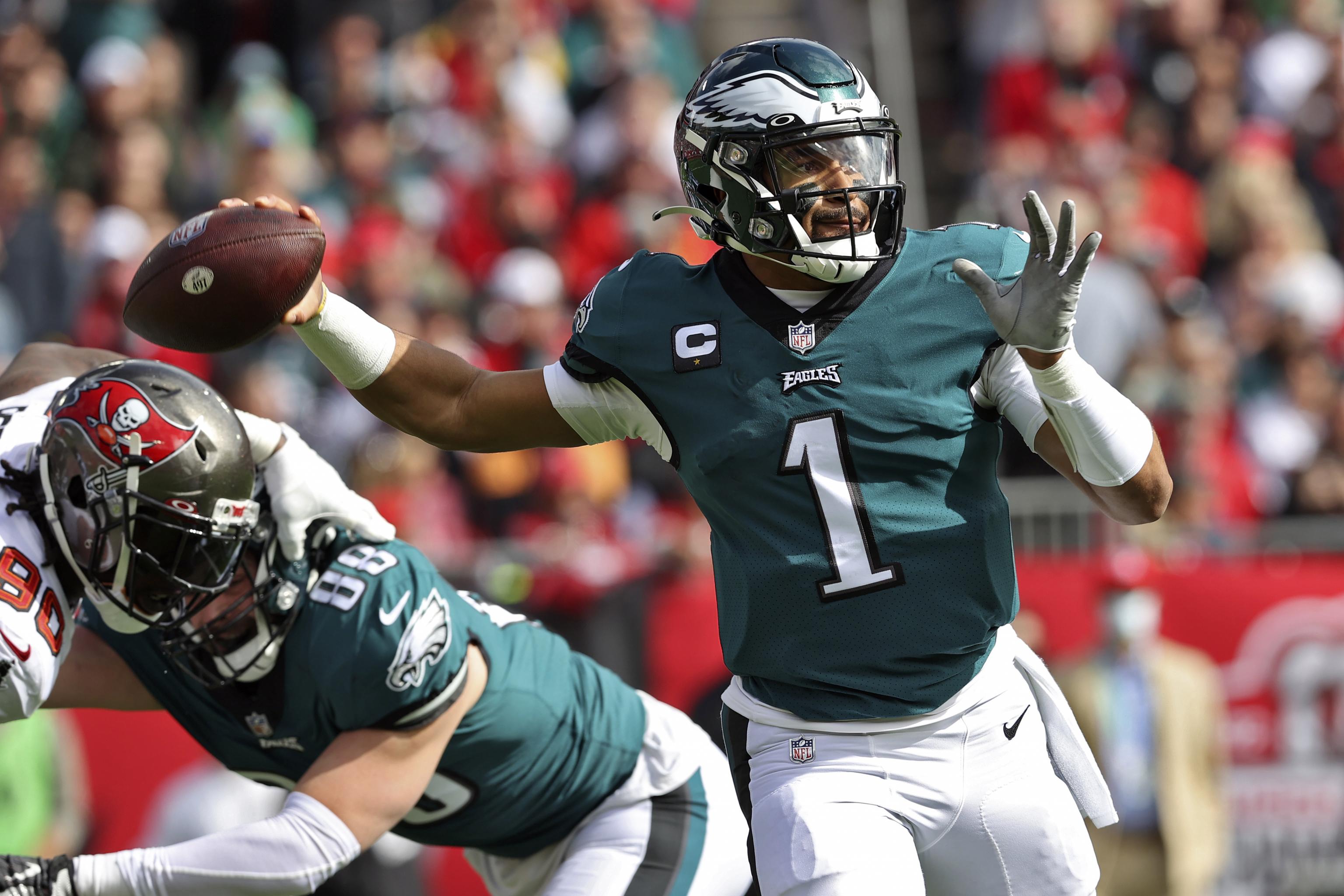 Jalen Hurts can't wait to see what the new-look Philadelphia Eagles will do on the field in 2022.
"This is an exciting time to be an Eagle," the quarterback said Wednesday. "I think, coming off the things we were able to accomplish and overcome last year, I think there's a lot to look forward to. One thing that I've been telling the guys is that the foundation has been set, the standard has been set, and the only direction is to climb. And the only way we can do that is doing it together."
Following its first full season with Hurts as a starter, Philadelphia bolstered its roster with explosive playmakers on both sides of the ball this offseason. Defensively, the Eagles signed free-agent pass-rusher Haason Reddick before drafting defensive tackle Jordan Davis and linebackers Nakobe Dean and Kyron Johnson.
They made their biggest splash on the other side of the ball, adding star receiver A.J. Brown from the Tennessee Titans to a wide receiver depth chart headlined by wideout DeVonta Smith, who they selected 10th overall in 2021.
"He's always been an excellent player," Hurts said of Brown. "Since I've known him in college, (he) always had the ability to make plays with the ball in his hands, use his body to box out defenders, break tackles. He's a great addition to a great receiver room we have now."
Though Hurts is excited about his supporting cast, he's also focused on fixing his game after an inconsistent 2021 campaign.
"Everything improves when you do it more. … The word for me has been consistency. That's my whole entire approach coming into Year 3 for me – being consistent," Hurts said. "I look back on last year knowing that there were games where I played at a very high level. And then there were games where it wasn't the same. I think consistency in this league is everything."
Hurts threw for 3,144 yards and 16 touchdowns to nine interceptions while completing 61.3% of his passes through 15 starts last season. He showed ability as a runner, racking up 784 yards and 10 touchdowns on the ground.
The Eagles posted a 9-7 record with the 23-year-old under center en route to earning a playoff berth as the NFC's No. 7 seed.