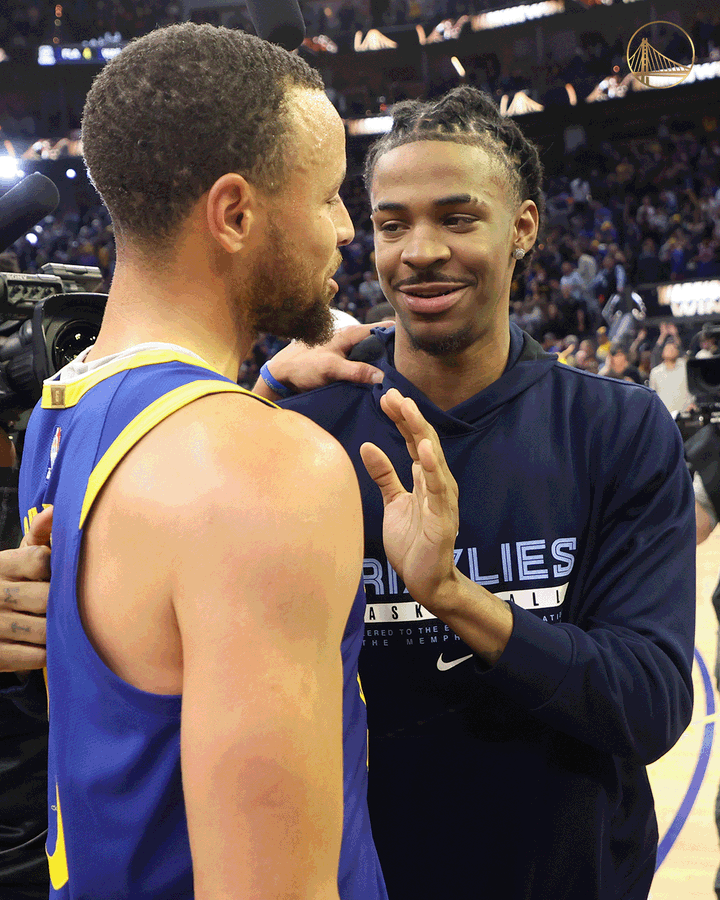 Stephen Curry praised his star counterpart Ja Morant after the Golden State Warriors eliminated the Memphis Grizzlies with a 110-96 win in Game 6 at Chase Center.
"His numbers are crazy. The sky's the limit," Curry said, according to ESPN's Kevin Arnovitz.
Morant, who missed the Grizzlies' last three postseason contests because of a bone bruise in his knee, averaged an eye-popping 38.3 points, 8.3 assists, and 6.7 rebounds in the first three games of the series. The Murray State product scored efficiently, converting 50.6% of his field-goal attempts while knocking down 43.3% of his 10 3-point tries per game.
Curry said the Grizzlies will remain a legitimate playoff threat with a talent like Morant leading the charge.
"They are going to be around for a long time, fighting for Western Conference prowess. So we'll enjoy this and keep moving toward our goal, but you have to understand that they are going to be around for the long haul, and he's a problem," Curry said. "So definitely an amazing matchup, fun, entertaining, high-level basketball, all the antics and pettiness and all that stuff, I love all of it."
Morant helped the Grizzlies reach the playoffs in two consecutive seasons after missing out as a rookie in the 2019-20 campaign.
Golden State will face either the Phoenix Suns or Dallas Mavericks in the Western Conference finals.