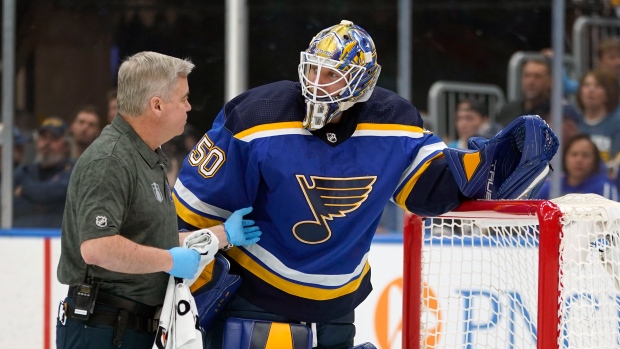 St. Louis Blues goaltender Jordan Binnington will miss the remainder of the club's second-round series against the Colorado Avalanche after a collision with Nazem Kadri forced him out of Game 3 and resulted in a lower-body injury, the team announced Sunday.
Kadri was driving to the net in pursuit of a rebound and got tied up with Blues defenseman Calle Rosen. The pair then collided into Binnington, who was rattled and slow to get up.
There was no penalty called on the play.
Berube hinted he believes there was intent on Kadri's end.
"Look at Kadri's reputation, that's all I have to say," Berube said, according to Benjamin Hochman of the St. Louis Post-Dispatch.
Kadri has been suspended six times in his career, including three in the postseason.
Ville Husso, who started the first three games of the Blues' first-round matchup against the Minnesota Wild, entered the contest in relief.
The Blues held a 1-0 lead at the time of the incident, but Colorado forward Logan O'Connor tied it up shortly after. The Avalanche went on to win the game 5-2.
Binnington has been stellar for the Blues in the playoffs after taking over the crease midway through the opening round. Including Saturday's brief outing, he owns a .949 save percentage and 1.72 goals-against average across six postseason appearances in 2022.
Husso, meanwhile, has an .891 save percentage and 3.38 goals-against average in four postseason showings.