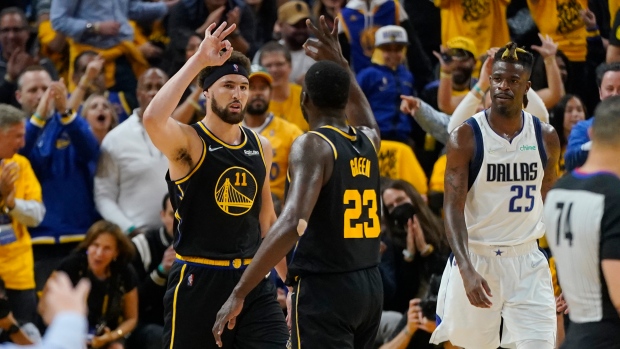 The Golden State Warriors are heading back to the NBA Finals for the sixth time in the last eight seasons.
Klay Thompson scored 32 points, including 19 in the first half, to help Golden State eliminate the Dallas Mavericks with a 120-110 Game 5 win at Chase Center on Thursday.
The Mavericks trailed by as many as 25 points and never led in the contest. Luka Doncic led Dallas with 28 points, nine rebounds, and six assists in 40 minutes. Doncic's 15 third-quarter points helped the Mavs get within 10 entering the fourth quarter, but the Warriors managed to regain momentum in short order en route to a decisive win.
Golden State shot 51.1% from the field and 38.9% on 3-point attempts while connecting on all 16 of its free-throw tries.
The Warriors improve to 21-2 in playoff series under head coach Steve Kerr and 18-0 against Western Conference playoff opponents during his tenure.
Golden State will host Game 1 of the Finals against either the Boston Celtics or Miami Heat on June 2.