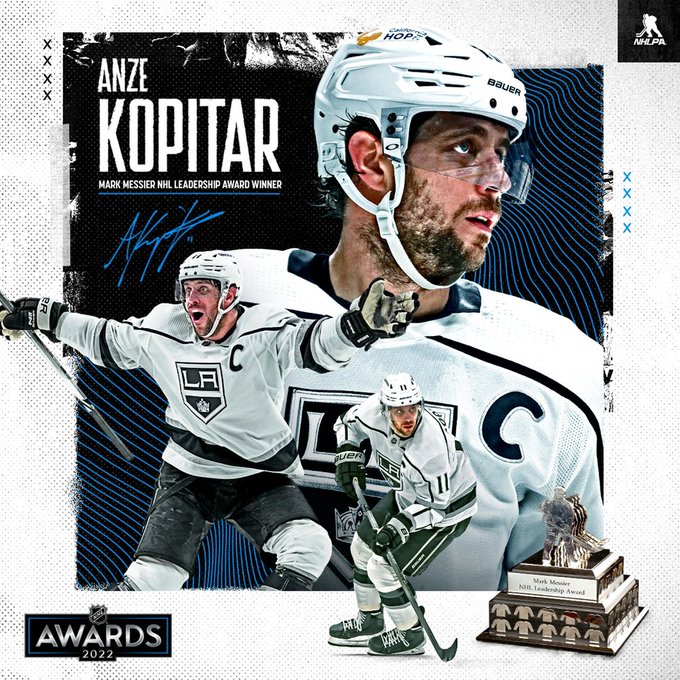 Los Angeles Kings captain Anze Kopitar has been named the winner of the 2021-22 Mark Messier NHL Leadership Award, the league announced Wednesday.
The honor is given annually to "the player who exemplifies great leadership qualities to his team, on and off the ice, during the regular season and who plays a leading role in his community growing the game of hockey." The winner is chosen by Messier himself.
In addition to helping grow the game in Southern California, Kopitar also hosts a youth hockey academy in his home nation of Slovenia.
"We've covered quite a few countries. The word is spreading," Kopitar said during an interview with Messier after being announced as the winner. "I think last year we covered, altogether, 13 countries, so the kids are coming and wanting to learn and wanting to start up with hockey, and I'm very thankful to be a part of the hockey community. It's given me so much."
Kopitar led the Kings with 67 points in 81 regular-season games while helping his team clinch a spot in the playoffs.
The 34-year-old has spent 16 seasons with Los Angeles, and he's sported the "C" since the 2016-17 campaign.
Kopitar is the 16th winner of the award. Boston Bruins captain Patrice Bergeron took home the honor last season.