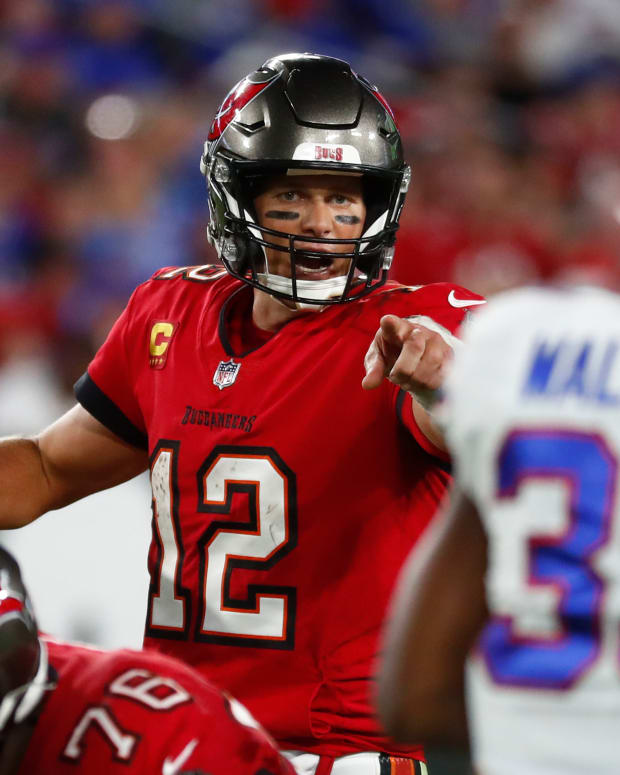 Tom Brady provided more details about his decision to return to the Tampa Bay Buccaneers this offseason after a brief retirement, saying Wednesday that he wasn't able to stay away from football due to his "appetite to compete."
The legendary quarterback can already see the end of the tunnel, though.
"I think mostly when I kind of told the team, 'Look, you know guys gotta make plans without me.' And then (GM) Jason (Licht) and (coach) Bruce (Arians) said, 'Just give it time,'" Brady said on "The Dan Patrick Show." "I said, 'Look, I feel pretty strongly.'
"Then time went by, and you just get super competitive. I think I'm part crazy. … Forty-five years old and I'm out here with a lot of young guys that are trying to take my head off. I see (Los Angeles Rams defensive lineman) Aaron Donald work out on my Instagram, and I'm like, 'Damn, maybe I should've stayed retired because he's a beast.'"
He continued: "But I had the appetite to compete, and it's going to be gone soon. … I gotta, you know, just really appreciate the time I have left because it's not a lot."
Brady officially announced he'd play his 23rd NFL season March 13, less than two months after first announcing his retirement.
It's still unclear when Brady will retire for good. However, the seven-time Super Bowl champion does know what's waiting for him once he hangs up his cleats.
"It's going to be a totally new career," Brady said of his agreement to become Fox Sports' lead NFL analyst after he retires. "It's a new opportunity for me to try something that I'm going to work really hard to prepare to be as good as I could possibly can be, knowing that the day that I walk on the set for the first time won't be my finest moment.
"There'll be a lot of growing pains and I'll have to learn to be really good at it, but I also think there's part of it that excites me."
Brady, who turns 45 in August, has shown no signs of slowing down on the field. He led the NFL in completions (485), passing yards (5,316), and touchdowns (43) en route to finishing second in MVP voting last season.