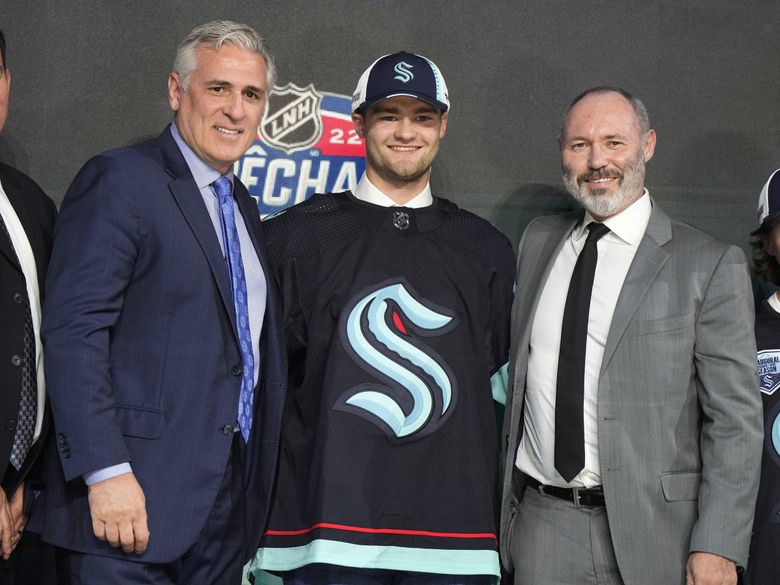 The Seattle Kraken put a stop to Shane Wright's fall in the 2022 NHL Draft, nabbing the Kingston Frontenacs star with the fourth overall pick.
Many projected Wright to be taken first overall, but the Montreal Canadiens selected Juraj Slafkovsky in that spot. The New Jersey Devils then took Simon Nemec second, and the Arizona Coyotes chose Logan Cooley third.
"I'm definitely going to have a chip on my shoulder from this, that's for sure," Wright said after being selected, according to the Seattle Times' Geoff Baker.
However, the OHL standout tried to take a positive approach to the outcome.
"I was drafted by an NHL franchise," Wright added. "I was drafted by a team with a lot of potential. It's a great city with a great fan base. Obviously, you want to go first. It's definitely something every guy wants to be able to do going into the draft.
"But I couldn't be happier with being in Seattle. I couldn't be happier with being a (member of the) Kraken. I'm really excited about the future I have in Seattle."
Shane Wright
Position: Center
Height: 6-feet
Weight: 198 pounds
Age: 18
Club: Kingston (OHL)
Nationality: Canadian
(Stats source: EliteProspects.com)
Wright was granted exceptional status into the CHL as a 15-year-old in 2019 after tearing up the GTHL with the Don Mills Flyers. He became only the sixth player to receive the honor, following John Tavares, Aaron Ekblad, Connor McDavid, Sean Day, and Joe Veleno. Connor Bedard, the projected top pick in 2023, became the seventh player a year later.
The Burlington, Ontario, native lived up to the hype in his age-15 season, taking home OHL Rookie of the Year honors after recording 39 goals and 66 points in 58 games for the Frontenacs. Of the five previous players to be given exceptional status, only Tavares recorded more points in his rookie season.
Wright, like many junior players, lost his 2020-21 campaign to the pandemic. However, he did captain Canada to a gold medal at the 2021 U18s, where he tallied nine goals and five assists in five games.
When the OHL was set to resume in 2021-22, expectations around Wright were sky-high. But he didn't take the league by storm like many thought he would.
That isn't Wright's game, though. He isn't a human highlight reel with an electrifying one-on-one ability like McDavid, Nathan MacKinnon, or even Bedard. However, his compete level and his ability to utilize his teammates with short-area passes should help make it a smooth transition to the pros. He can also finish thanks to his bullet of a shot.
Wright may not have an Art Ross Trophy in his future, but he projects as a quality No. 1 center with two-way ability and strong leadership skills.
What they're saying
Frontenacs head coach and former NHL forward Luca Caputi, who played with Sidney Crosby for parts of two seasons, likened Wright's intangibles to those of the Pittsburgh Penguins captain.
"I talk a lot about being like Crosby, and that's not fair, and a lot of pressure to put on a kid, but I see some of those similarities just in the way he goes about his business," Caputi told theScore back in 2020 while he was an assistant coach.
Caputi added: "Extra reps the next day, staying late to watch video. That's somebody you want to build your identity and your core around."
Corey Pronman, the senior NHL prospects writer for The Athletic, listed Wright as his No. 2 prospect in the draft behind Slovak winger Juraj Slafkovsky.
"His toolkit is the biggest argument against him," Pronman wrote when speaking of his flaws. "Wright is a talented and well-rounded player, but when watching him, you don't get blown away. He doesn't have truly elite speed or skill and isn't the most physically imposing player, either. Watching him throughout his junior career, he would often play well, but you didn't often end games thinking he took over."
Pronman did rave about his hockey IQ, though, and used New York Rangers center Mika Zibanejad as his player comparable.
"On a talent perspective, his hockey sense is among the best in the draft," he wrote. "Wright makes a ton of plays throughout the course of a game. While I didn't think so this season, historically, I've viewed his shot as an elite asset and something that can break games open."