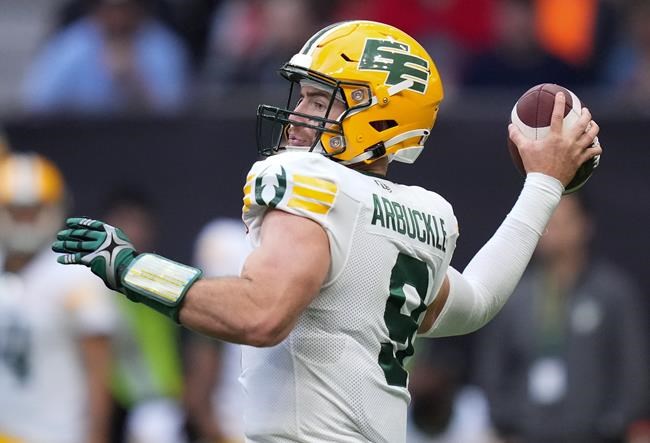 The Edmonton Elks traded quarterback Nick Arbuckle to the Ottawa Redblacks in exchange for a fourth-round pick in 2023, the teams announced Monday.
"We're pleased to be able to add Nick to our locker room at this point of the season," Redblacks general manager Shawn Burke said in a statement. "He's an experienced player in our league, and we look forward to having him on our side as a member of the RNation family."
The move comes one day after the Redblacks lost quarterback Jeremiah Masoli for at least 10 weeks. Masoli is reportedly set to undergo a bone-based surgical procedure on his leg after taking a low hit from Saskatchewan Roughriders defensive lineman Garrett Marino on Friday.
Arbuckle joined Edmonton midway through last season via trade from the Toronto Argonauts. The 28-year-old suited up for five games with the Elks in 2022, completing 74-of-115 pass attempts for 892 yards and two touchdowns against eight interceptions. He began the season as Edmonton's starter but recently lost the No. 1 role to rookie Tre Ford.
This will be Arbuckle's second stint in Ottawa, but he never played for the team the first time around in 2020 due to the COVID-19 pandemic. The Redblacks released him in January 2021, and he signed with the Argos weeks later.
Arbuckle posted his best seasons in the CFL as a member of the Calgary Stampeders from 2017-19. He won the Grey Cup with the club as Bo Levi Mitchell's backup in 2018.
The Elks are battling their own injuries at quarterback, as Ford is reportedly expected to miss at least a couple of weeks due to a collarbone injury. Edmonton announced Sunday that Taylor Cornelius will start Thursday's game against the Montreal Alouettes.