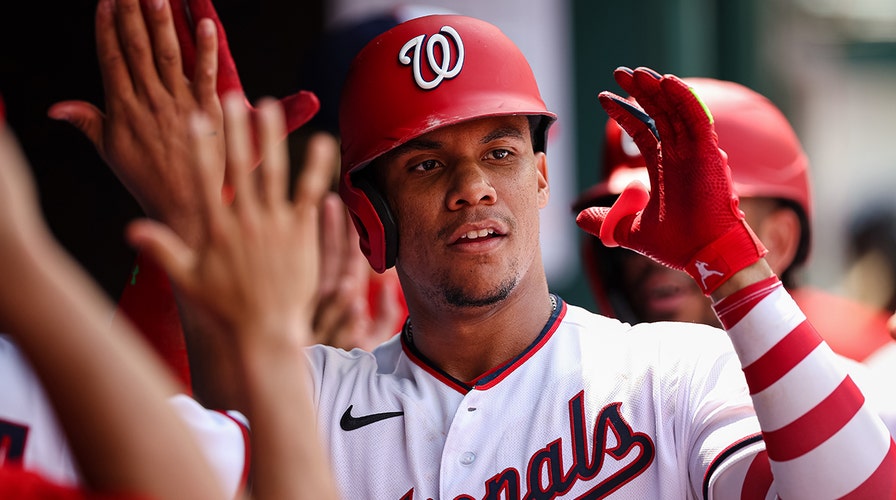 Star outfielder Juan Soto isn't thrilled that the details of a long-term contract offer from the Washington Nationals became public.
"It feels really bad," Soto said Monday, according to The Washington Post's Chelsea Janes.
Soto reportedly rejected Washington's 15-year, $440-million extension offer, so the club will now entertain trade offers for the two-time All-Star.
The change in course comes just over a month after Nationals general manager Mike Rizzo said the club had no plans to trade Soto.
"A couple weeks ago, they were saying they will never trade me. And now all these things come out," Soto said, according to SNY. "It feels really uncomfortable. You don't know what to trust, but at the end of the day, it's out of my hands what decision they make."
With the Aug. 2 trade deadline rapidly approaching, plenty of teams may opt to take a swing at acquiring Soto. However, the 23-year-old remains hopeful that his future lies in Washington.
"I've been a National since Day 1, why would I want to change?" Soto said, according to Janes.
Soto can test free agency after the 2024 season.
The Nationals entered the All-Star break with the worst record in baseball at 31-63. Despite the team's struggles, Soto has found his stride in July, hitting .409 with six home runs and 11 RBIs in 44 at-bats.