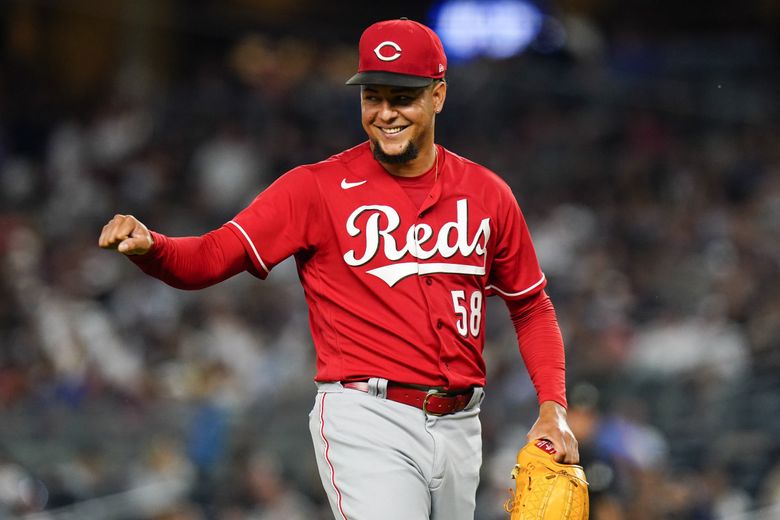 The Seattle Mariners acquired right-hander Luis Castillo from the Cincinnati Reds on Friday, the teams announced.
Cincinnati receives four minor-leaguers from Seattle, including shortstop Noelvi Marte, infielder Edwin Arroyo, and right-handers Andrew Moore and Levi Stoudt. Three of the players were among the Mariners' top five prospects.
"We see Luis Castillo as an impact, top-of-the-rotation starter who's currently on top of his game," Mariners president of baseball operations Jerry Dipoto said. "Our goal remains to play in the postseason, now and in the years to come. We believe adding Luis is a big step in that direction."
Castillo was the top starting pitcher available on the trade market after a sensational five-and-a-half seasons with the Reds, which included two All-Star Game appearances.
The 29-year-old owns a 4-4 record with a 2.86 ERA, 1.07 WHIP, and 9.5 K/9 this season and a career 3.62 ERA with 860 strikeouts in 792 1/3 innings pitched.
Castillo is owed the remainder of his $7.35-million salary for this season and is arbitration-eligible in 2023 before hitting free agency in 2024. He gives the Mariners a stellar top three in their rotation alongside Robbie Ray and Logan Gilbert.
"Obviously, I want to stay with this team," Castillo said of the Reds following the trade, according to the Enquirer's Charlie Goldsmith. "But that's how the business works."
Marte, ranked as Seattle's No. 1 prospect by MLB Pipeline, is a 20-year-old shortstop. The Dominican is currently slashing .270/.360/.460 with 15 home runs, 55 RBIs, and 12 steals for High-A Everett.
Arroyo, 18, was the Mariners' second-round pick in 2021. He's a switch-hitting infielder with 496 plate appearances in pro ball. The Puerto Rican is hitting .316/.385/.514 with 13 homers, 67 RBIs, and 21 steals for Single-A Modesto.
The 24-year-old Stoudt is a 2019 third-round pick. He's pitched his entire 2021 campaign for Double-A Arkansas, authoring a 6-6 record with a 5.28 ERA and 8.5 K/9.
Moore, 22, owns a 1.95 ERA with a 16.1 K/9 in 25 relief outings for Modesto.
A dozen teams made a bid for Castillo, sources told MLB.com's Mark Feinsand. The New York Yankees were close, but the Reds preferred the Mariners' return.
The Texas Rangers were strongly in the mix as well, sources told The Athletic's Ken Rosenthal.