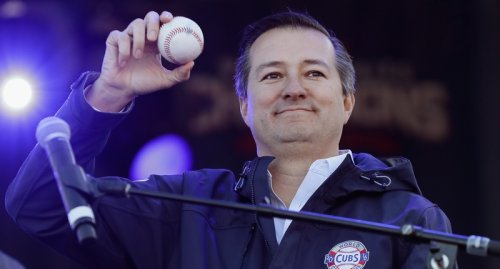 Chicago Cubs owner Tom Ricketts knows the club's performance this season is not up to par with what fans have come to expect over the past few years.
"I'll be the first to acknowledge this is not the type of baseball Cubs fans deserve," Ricketts said in a statement to ESPN's Jesse Rogers.
"Our decision last year to move away from Cubs players who brought us a World Series title was tough, but we have a plan to return to championship contention by building the next great Cubs team around a young core of players augmented by free agent signings – and we're making progress."
Chicago dealt a handful of stalwarts from its 2016 World Series-winning squad before last season's trade deadline, signaling a transitional period for the franchise.
President of baseball operations Jed Hoyer was active this past offseason, signing right-hander Marcus Stroman and Japanese star Seiya Suzuki to lucrative contracts in free agency.
The team raised some eyebrows at this year's trade deadline when it decided not to move catcher Willson Contreras or infielder/outfielder Ian Happ. Ricketts still believes that the Cubs are in a strong position to improve quickly, and he vowed to be aggressive this offseason.
"Our moves over the past year and at the trade deadline have put us in a position of strength in both player and financial currency," Ricketts said. "We plan to be very active again this offseason competing in the free agent market."
The Cubs entered play Thursday a disappointing 45-65 and are just one game ahead of the last-place Cincinnati Reds in the NL Central.