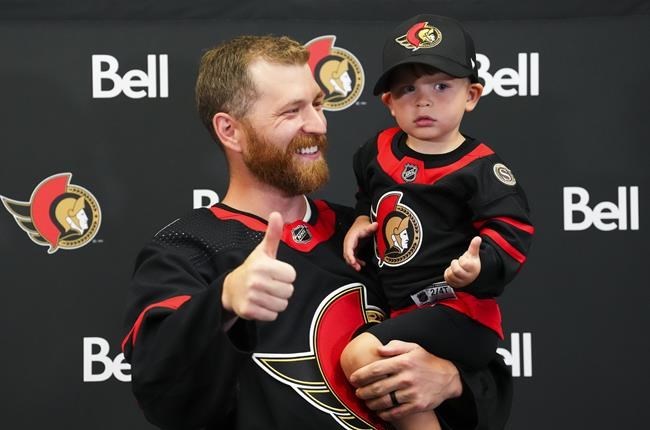 New Ottawa Senators center Claude Giroux may be 34 years old and past the prime of his career, but the veteran is just as driven as ever heading into his first season in Canada's capital.
"Every summer, I find ways to motivate myself. This year, it's pretty easy to motivate myself coming to play in Ottawa," Giroux told The Athletic's Ian Mendes. "A lot of people say I'm a little too old and I'm on the way down, but you know what? I kind of like hearing that stuff. It keeps me on my toes."
Giroux signed a three-year, $19.5-million pact with the Senators as an unrestricted free agent this summer. The former Philadelphia captain split the 2021-22 campaign between the Flyers and the Florida Panthers. He logged 21 goals and 44 assists in 75 contests – his highest point total since the 2018-19 campaign.
The Ontario native is used to dealing with his fair share of doubt. Giroux mustered just 14 goals and 44 assists in 82 games during the 2016-17 campaign and was in need of a rebound as he approached his 30th birthday.
"I didn't have a great year. I just came out of hip surgery, and a lot of articles came out (saying) that I'm getting old and I'm slowing down," Giroux said. "At that time, I was a little angry. But that's all I needed. A little more motivation."
Giroux made changes to his rigorous training regime and had what he called one of his "best summers," which led to a career-high 102 points over 82 contests in 2017-18.
He'll be 37 when his current deal expires, but Giroux hasn't made concrete plans for his career beyond that. Though his trainer, Tony Greco, believes he can play into his 40s, Giroux is solely honed in on maintaining his productivity in a younger, faster NHL.
"The focus is a little different than when I was 17 and I was trying to gain weight and get stronger," Giroux said. "Now I'm just trying to keep my speed."
He added, "You're as old as you feel. And I feel strongly about that. I feel great. I feel the same way I used to when I was 24 or 25."
One of the crown jewels of the Senators' busy offseason, Giroux will hope to boost Ottawa's playoff pursuit in a crowded Atlantic Division. The youthful Senators finished ahead of the Montreal Canadians for seventh place in the division with a record of 33-42-7.