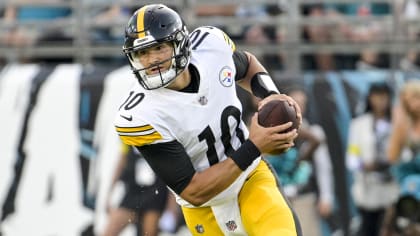 The Pittsburgh Steelers will start Mitchell Trubisky at quarterback in Week 1 against the Cincinnati Bengals, head coach Mike Tomlin announced Tuesday.
Meanwhile, the team listed rookie Kenny Pickett as the No. 2 quarterback over Mason Rudolph in an updated depth chart.
"We're really comfortable with what Mitch has shown us," said Tomlin, according to Ian Rapoport of NFL Network.
Trubisky's place as starter appeared secure after his teammates named him one of the Steelers' five co-captains and he was placed atop the depth chart Monday.
The 2017 No. 2 overall pick is looking to rejuvenate his career after failing to establish himself as the Chicago Bears' franchise quarterback. Trubisky signed with the Steelers as a free agent this offseason after spending a year as Josh Allen's backup with the Buffalo Bills.
Tomlin allowed Trubisky, Pickett, and Rudolph to compete during the offseason and training camp. While the rookie did enough to supplant Rudolph as the primary backup, Trubisky was the clear favorite for the No. 1 role during the preseason.
"I'm really pleased with the growth and development of Kenny. That's why he's listed as QB2," said Tomlin.
Trubisky threw for 10,609 yards and 64 touchdowns against 39 interceptions during four seasons in Chicago (50 starts and nine further appearances). He also rushed for 1,081 yards and nine scores.