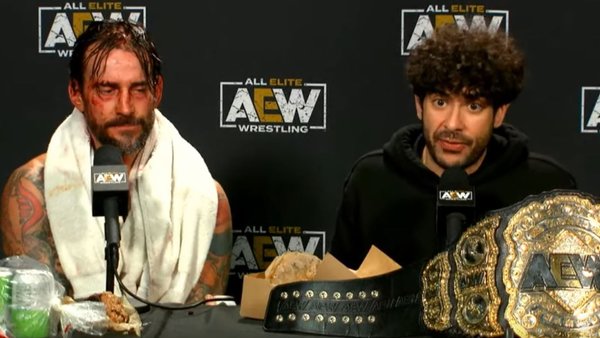 Retired wrestling great Ric Flair has described CM Punk's fiery post-AEW All Out media scrum comments as "very entertaining".
The 'Nature Boy' told listeners tuning into his podcast that he's never really been around Punk backstage – they've exchanged pleasantries, but didn't exactly hang out a lot on the road when both were in WWE. Ric did, however, side with good pal Triple H following issues between Hunter and Punk in the past.
Now, he views the exiled AEW man as someone who is "creating excitement" everywhere he goes. That might be an understatement from Ric there! All Elite boss Tony Khan decided to strip Punk of the AEW World Title and suspend him following a controversial press conference immediately after Sunday's pay-per-view.
The Young Bucks, Kenny Omega and several others were also suspended.
Flair pointed out that Punk's willingness to fight his own corner is "old-time stuff", but knows it has "divided" AEW's locker room. He's enjoying looking on from afar though, and followed the situation alongside other wrestling fans on social media.
Later in the pod, Ric said he found The Bucks and Omega "really easy guys to get along with".