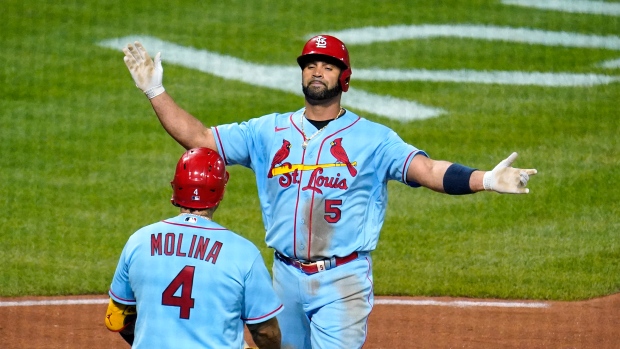 Albert, meet A-Rod.
St. Louis Cardinals icon Albert Pujols continued his march toward history Saturday by blasting his 696th career home run, moving him into a tie with Alex Rodriguez for fourth place on baseball's all-time list.
PLAYER
YEARS
CAREER HR
1
Barry Bonds
1986-2007
762
2
Henry Aaron
1954-1976
755
3
Babe Ruth
1914-1935
714
T-4
Albert Pujols
2001-Pres.
696
T-4
Alex Rodriguez
1994-2016
696
The 418-foot shot off Pittsburgh Pirates right-hander JT Brubaker also knotted Saturday's game at 3-3. St. Louis went on to win 7-5.
"I don't care who I tied," Pujols said, according to The Associated Press. "At the end of the day, it's about tying (the game) for the team and giving them an opportunity to pick up a win. … It's pretty special. I think I'm aware of where I am in the history of the game. But at the end of the day, 21 years ago when I make the ball club, that wasn't something that I was chasing."
Pujols, 42, is planning to retire at the end of the season regardless of whether he reaches the 700-homer milestone.