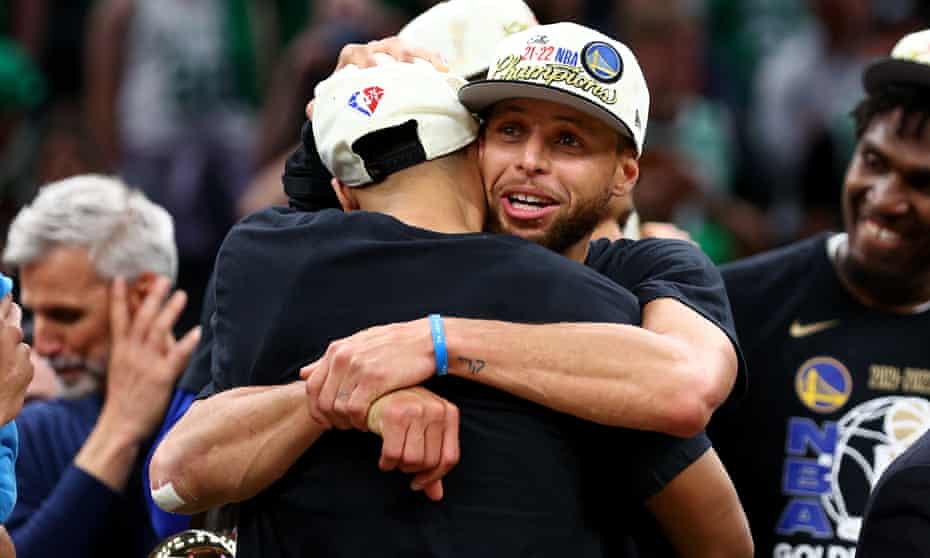 The Golden State Warriors are on top of the basketball world once again.
Stephen Curry finished with 34 points and seven assists to help the Warriors edge the Boston Celtics 103-90 in Game 6 of the NBA Finals at TD Garden. The win secured Golden State's fourth title in eight seasons and the team's first since 2018.
This marks Curry's fourth championship and first Finals MVP award after averaging 31.2 points, five assists, and two steals in the six-game series. Meanwhile, Steve Kerr won his fourth title as Warriors head coach and his ninth overall after winning five championships during his playing career with the Chicago Bulls and San Antonio Spurs.
Golden State's title completes an incredible two-year turnaround for the franchise after finishing the 2019-20 season with the NBA's worst record, then losing in the Western Conference play-in tournament in 2020-21. The journey has been a particularly personal one for Warriors guard Klay Thompson, who missed two full campaigns because of a torn ACL and torn Achilles before returning in January.
Draymond Green played a tremendous game with 12 points, 12 rebounds, eight assists, two steals, and two blocks while knocking down a pair of 3-pointers in 42 minutes.
Andrew Wiggins was once again brilliant for Golden State with one of his most complete two-way performances in the Finals. The Canadian flirted with a 5×5 game with 18 points, six rebounds, five assists, four steals, and three blocks. Wiggins also played a pivotal role in limiting star Jayson Tatum to 13 points on 6-of-18 shooting.
The Warriors dominated to close the first half with a 52-25 run after beginning the game down 14-2. Golden State shot an identical 41.3% on field goals and 3-pointers and was a perfect 8-of-8 from the free-throw line.
Warriors reserve Gary Payton II and Hall of Famer Gary Payton became the fifth father-son duo in league history to each win a championship during their playing careers, according to SB Nation.
Jaylen Brown led Boston with 34 points on 12-of-23 shooting in the loss. The Celtics committed 22 turnovers, which marked a new high for the team this series. This marked the Celtics' first three-game losing streak since December 2021.