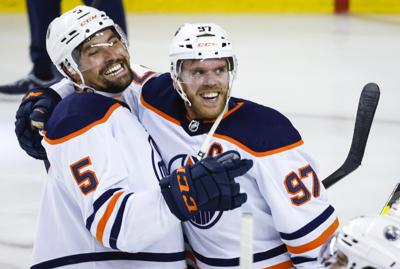 The Edmonton Oilers cemented their place in the Western Conference Final for the first time since 2006 after defeating the Calgary Flames 5-4 in overtime in a chaotic Game 5 on Thursday night.
Oilers star Leon Draisaitl led the way with four points, while Connor McDavid ended the Flames' season with his overtime winner.
"I was bad all night," McDavid said. "I was riding the coattails of my teammates. They gave me a great opportunity to get it in overtime. I'm just so happy to contribute in this one."
McDavid only had one point in the high-scoring contest, but it was the goal that mattered most.
"The best player won the series," Flames head coach Darryl Sutter said, according to Sportsnet's Eric Francis.
The contest wasn't short on drama. The two teams set an NHL record for the fastest four goals scored in playoff history after each club lit the lamp twice in 1:11 during the second period.
Flames forward Blake Coleman had a goal disallowed in the third period due to a kicking motion, denying Calgary a late lead.
"Depends what you call a distinct kicking motion," Sutter said of the call. "If somebody is on the ground, and you lift your foot up and kick them in the head, that's a distinct kicking motion. If you slide your foot on the ground it's not a distinct kicking motion."
Andrew Mangiapane opened the scoring in a quiet first period before Mikael Backlund doubled the Flames' lead early in the middle frame. The teams combined for six more goals in the second period, with Darnell Nurse, Jesse Puljujarvi, Zach Hyman, and Evan Bouchard contributing for the Oilers and Johnny Gaudreau and Calle Jarnkrok finding the back of the net for the Flames.
"Get your chin up and your chest out and walk out proud," Sutter said of his message to his players, according to Postmedia's Wes Gilbertson. "They did a hell of a lot more than anybody said they'd do, (to be) quite honest."
Both goaltenders posted sub-.900 save percentages in the wild contest. Jacob Markstrom made 30 saves on 35 shots, while Mike Smith stopped 32 of 36.
The Oilers will either face the Colorado Avalanche or St. Louis Blues in the conference finals.