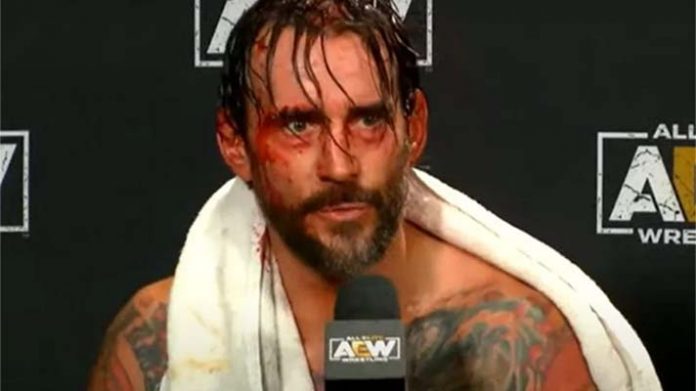 All Elite Wrestling crowned a new World Heavyweight Champion at "All Out" in Chicago, with CM Punk becoming the second two-time champion in company history after defeating Jon Moxley in the show's main event. However, the title was not the most talked about thing coming out of the pay-per-view, nor was the long-awaited return of MJF after the match.
All anyone is talking about is what Punk had to say during the "AEW All Out" post-show media scrum, where he verbally attacked "Hangman" Page, The Young Bucks, Kenny Omega, and Scott Colton aka Colt Cabana. Punk detailed his level of disdain for something The Elite allegedly said during an episode of "Being The Elite," suggesting the reason he's been getting such mixed reactions is because of their constant campaign to defend Cabana on their show.
"If you're an EVP, you don't try to middle your top babyface, trying to get your niche audience that's on the internet to hate him for some made-up bullshit rumor," Punk said. "Really pisses me off, stepping on your own dick trying to make money, sell tickets and fill arenas and these stupid guys think they are in Reseda [reference to PWG]."
Not only did Punk bury the group for comments they made in the past toward him, but "The Best in the World" also heavily criticized Page for comments he made during an interview he had at GalaxyCon, in which he stated that he doesn't "take advice."
"We have a locker room full of pretty brilliant minds, Jerry Lynn, Dean Malenko, Mark Henry," Punk said. "When I came back [from the foot injury] and cut my second promo here, I thought it was pretty decent. Blurred the lines a little bit, crazy Phil, he's going into business for himself, and really I was just defending myself. You mix that in with attacking Moxley and you mention Kingston being the second-best Kingston which is a pretty great line.
"Our locker room, for all the wisdom and brilliance it has, isn't worth shit when you have an empty-headed idiot who's never done anything in the business and does public interviews and says, 'Nah, I don't really take advice.' Who the fuck do you think you are? Yanno? That's stupid. I'm on a team with Barry Bonds, Mark Maguire, and Sammy Sosa and I don't need to work on my swing, I'm not going to listen to these guys when they tell me how to swing a baseball. Fucking go fuck yourself. That's how I feel about it. I dare you to say that to Terry Funk's face. Fucking grow up."