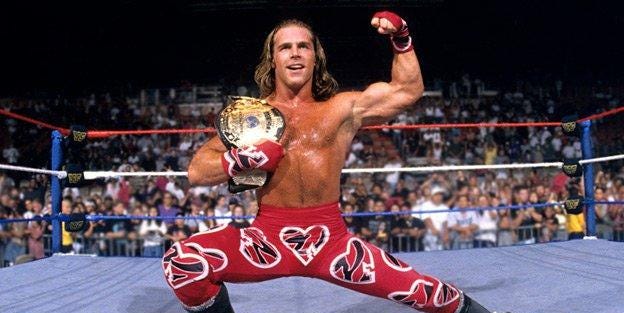 The 'King Of Rock & Roll' is indirectly responsible for one of pro wrestling's most iconic poses.
Shawn Michaels recently told Sports Illustrated that Elvis Presley inspired the wide-legged muscle pose that he performed countless times in WWE rings. Elvis didn't flex both biceps the way HBK did, but he did stand in a power stance and make himself the centre of attention on-stage.
A young Shawn loved that, and he decided to make it part of his act when he went solo. He'd noticed that Presley would command attention and bask in the spotlight towards the end of his concerts. That's something else Michaels changed – he flipped the King's performance on its head and gestured before and after his biggest matches.
It didn't take long for wrestling fans to associate the pose with Shawn, but few knew that he'd actually lifted it from Elvis. Remarkably, Michaels also asked ring announcers to tell fans that he'd "left the building" before main events too.
That little add-on kept him in everyone's minds, and was another sneaky little trick that he'd picked up from Presley.